Thanks for the contender badge CAS-ual Fridays!! :)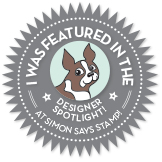 Another special thanks to Andrea and Barbara at SSS Mon Challenge for the Designer Spotlight award! Here is what they had to say:
#16: Dawn E
Andrea says, "The background of this card is nothing short of brilliant. I love the way the colors are so expertly blended and provide the perfect backdrop for the simple-chic snowflake and sentiment."
Barbara says "This card is fabulous! The background pops out and strike the eyes! The way that she blended colors is fantastic and the snowflake gives a perfect touch !"
You have to have the darkness to see the light(white).
Inside it says: shine bright.
It has 'just a pinch' of shine with the few gems.
Join the challenges
here.